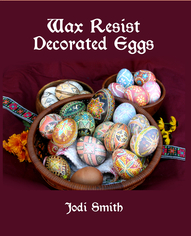 by Jodi Smith
October 2019
Artists across Central Europe have been decorating eggs using the wax resist process for over a thousand years. Learn their secrets, and create your own one-of-a-kind heirlooms.

Jodi Smith is a descendant of Wendish (Sorbian) immigrants to Texas. Examples of her naturally dyed eggs have been displayed at the Texas Wendish Heritage Society Museum. She has been teaching wax resist egg decorating classes for over 25 years. Now she presents her class material, and much more, in this lavishly illustrated, full color book.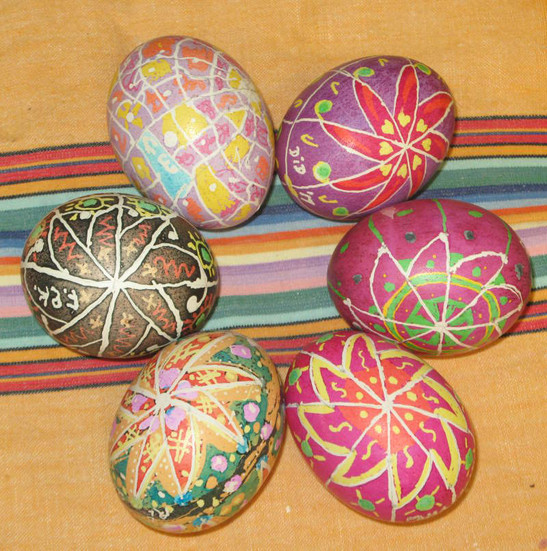 Eggs made by first-time students, in one of Jodi's classes. Now you can do this, too.
Topics Include:
making sense of the wax resist process
using a waxing pen ("kistka") ("Ukrainian" style, pysanky)
dipping a pin in melted wax ("Lithuanian" style, marguciai)
dipping a feather in melted wax ("Wendish/Sorbian/Lusatian" style)
using commercial and natural dyes
author's own tests of 45 natural dye materials
traditional "English" and metric units
all class materials from the author's egg decorating classes
detailed, illustrated instructions, from planning a design though sealing and hollowing the finished egg
simple beginner patterns, for each style
ideas for easy variations, to personalize your egg
8 basic layouts to start your own original designs
4 different methods for drawing the popular 8-pointed star motif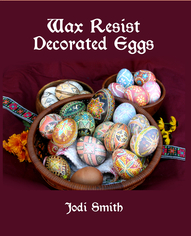 To Order Your Copy
Paperback book, full color – at Amazon