from Recycled Plastic Grocery Bags
pattern by Jodi Smith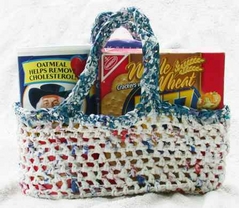 This sturdy bag is the same size as an ordinary plastic grocery sack. It can hold much more, because you can pack it full. Even when this bag is filled with cans or glass jars, it can easily manage the weight.
Wide handles are easy on your hands, even when the bag is packed full. Sturdy handle construction distributes the weight of the bag and reduces strain at the handle joints.
The bag is easy to wash, and dries quickly.
This bag is convenient for many household uses — groceries, gift bag, beach tote, garden harvest basket — just about anything you now use those flimsy plastic bags for!
Feel virtuous giving your old plastic shopping bags a good long-term use.
About this Pattern
This pattern is an original, copyrighted, work by Jodi Smith.
You may make bags from this pattern. You may sell bags you make from this pattern. You may copy the pattern for your own personal use.
You may not sell this pattern. You must keep my name (Jodi Smith) and the copyright information on any copies of this pattern.