Many cultures especially value "red" dyed eggs, whether or not quality red dyes are available. As a result, some well-known "red" dyes really do give good results, and some are just the best that people of some time and place had to work with.
Onion skins
Madder
Brazilwood
Cochineal
Beet Powder
Onion skins are perhaps the best known "red" dye. Does anyone have a good recipe for a reliable "red" from onion skins? So far, my own results — even with red onions — run more to yellow, orange, and brown.
Madder, Brazilwood and Cochineal were used for centuries as fiber dyes. All three work very well on eggs. I recommend making a paste from powdered dyestuff.
Beet Powder is sold at natural food stores as a food-color. I got an acceptable, not brilliant, brownish red. I soaked 4 teaspoons of beet powder in 1/2 cup warm water for 5 hours, then soaked the egg in that solution for 2 1/2 hours.
---
Using a pigment as a paste: Many dyes require very strong concentrations to color eggs. Making a strong enough solution in enough water to cover an egg would require an impractical amount of dyestuff. It is often more practical to make a paste to smear onto the egg.
Start with a powdered dye material. Add just enough warm water to make a soft paste. Let sit — generally for at least an hour. Smear the paste onto the egg. Let it sit. You can brush off the paste (back into its dish) to check whether the egg is dyed enough. There is no need to rinse the egg until you are satisfied with the color; rinsing will dilute the dye paste.
---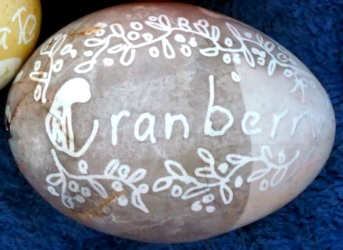 What pigments are less red than you would expect?
Cooked or raw beets — All I have ever gotten was brown.
Red fruits and berries — Some give only brown; some react with the (alkaline) calcium in the eggshell to give blue.
Onion skins — As I mentioned before, onion skins only made the "red" list because they are famous. I personally would classify them as "orange."
---
Now it's your turn! Do you have a favorite recipe to share for a red natural egg dye?